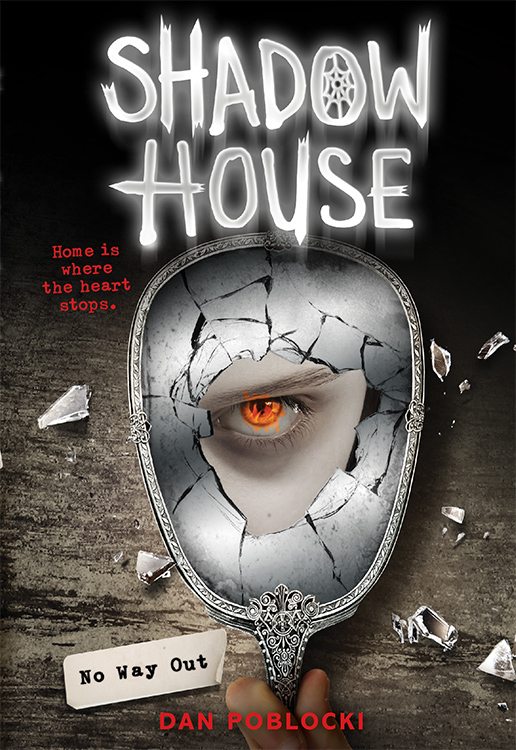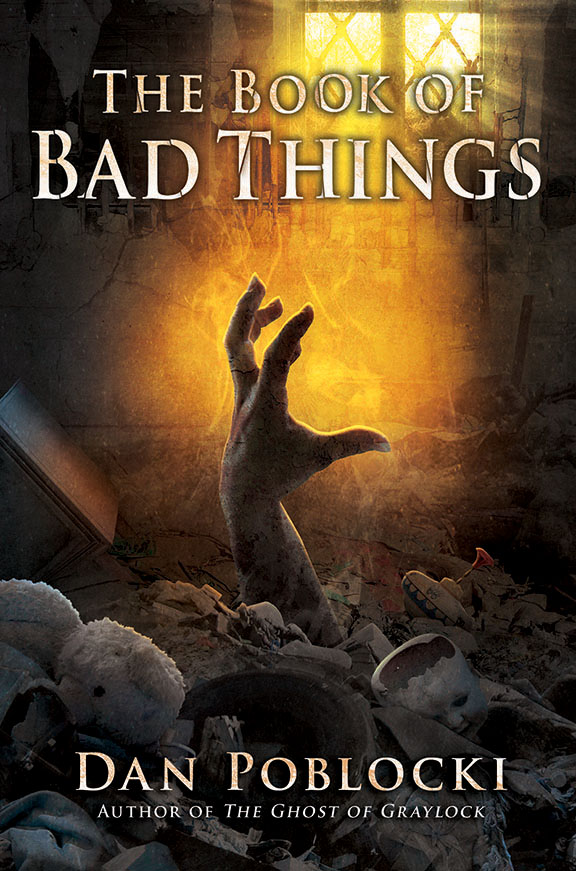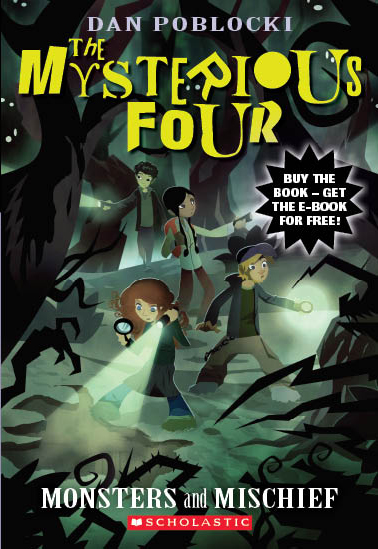 Dan Poblocki's award-winning books have been called "ghostly... grotesque... eerie...," by Booklist and "fun and creepy in all the good ways," by VOYA. The Ghost of Graylock and The Haunting of Gabriel Ashe were YALSA Best Fiction for Young Adults selections, as well as Junior Library Guild selections. You can find all of his books at your favorite local bookstores and libraries. Click on the titles or pictures below for more information about purchasing your own copy from a local bookseller, or use the attached links to order from your favorite online stores.
Shadow House always wins . . .

Poppy, Dash, Azumi, and Dylan may have made it out of Shadow House--but the grounds are a whole new nightmare. Someone they thought was a friend is hunting them, and there's no place that's safe now that they've woken the shadow creature.

If they want to survive, they'll have to figure out once and for all what the house wants from them, and what-or who-they'll need to leave behind in order to escape . . . or risk being trapped within Shadow House forever.
Shadow House will find you . . .

Poppy, Marcus, Dash, Dylan, and Azumi are all trapped within Shadow House, a sinister estate where past and present intertwine. As they fight to find a way out, the kids think the ghosts of the house are the greatest danger they face. Little do the kids know it's the secrets they're each hiding that will prove even more lethal.

They're going to have to come face to face with their fears if they stand any hope of escaping the house alive. Is there anyone or anything in the house they can trust? Or is all hope disappearing, too . . .
Check out the landing page for the multi-platform series at Scholastic.com. You can download the free app for your tablet or phone and play the spooky game, unlocking more story elements not included in the book! Oooh! Lucky you . . .
You don't just read this ghost story. You step into it. Some houses are more than just haunted... they're hungry.

Dash, Dylan, Poppy, Marcus, and Azumi don't know this at first. They each think they've been summoned to Shadow House for innocent reasons. But there's nothing innocent about Shadow House.

Something within its walls is wickedly wrong. Nothing -- and nobody -- can be trusted. Hallways move. Doors vanish. Ghosts appear. Children disappear.

And the way out?

That's disappeared, too...

Enter Shadow House... if you dare.

Don't just read about Shadow House -- explore its haunted depths with the free app!
Check out the landing page for the multi-platform series at Scholastic.com. You can listen to a bit of the audiobook, read an excerpt, get stared at by a creepy little girl, learn about the app, and participate in the awesome forums.
What if the monsters from your favorite horror books were real?

Eddie Fennicks has always been a loner, content to lose himself in a mystery novel by his favorite author, Nathaniel Olmstead. That's why moving to the small town of Gatesweed becomes a dream come true when Eddie discovers that Olmstead lived there before mysteriously disappearing thirteen years ago. Even better, Eddie finds a handwritten, never-before-seen Nathaniel Olmstead book printed in code and befriends Harris, who's as much an Olmsteady as he is. But then the frightening creatures of Olmstead's books begin to show up in real life, and Eddie's dream turns into a nightmare. Eddie, Harris, and their new friend, Maggie, must break Olmstead's code, banish all gremlins and monster lake-dogs from the town of Gatesweed, and solve the mystery of the missing author, all before Eddie's mom finishes
writing her own tale of terror and brings to life the scariest creature of all.
Timothy July has been having nightmares. About his brother, who is in a coma after being wounded in Iraq; about his best friend, Stuart, who is behaving like a jerk; about the old biology specimens in jars lining the walls of his classroom; and about Abigail, the new girl who seems to be a magnet for trouble. Or perhaps she is the cause.

Suddenly Timothy's nightmares are coming true. His brother, his face decaying, approaches Timothy on the street. Stuart ends up in the hospital, terrified that monsters are stalking him. And the specimen jars are tormenting not only Timothy but his teacher as well.

What is the secret in Abigail's past that is the key to these horrors? And can Timothy figure it out before his nightmares become a deadly reality?

A follow-up to the well-received Stone Child, Dan Poblocki's second novel will have his readers mesmerized until the last page—and sleeping with the lights on.
Can you crack the case with six clues or less?

Welcome to Moon Hollow, where mystery lurks around every corner--and four kids have come together to solve crimes and puzzles big and small.

Whether they're debunking sea monsters, thwarting bullies, or revealing who threw out mom's asparagus, Viola, Sylvester, Rosie, and Woodrow will figure out the truth in six clues or less. And readers are invited to guess alongside them each step of the way.
Can you crack the case with six clues or less?

Moon Hollow's town library is a favorite spot for the Mysterious Four. But when the strange, masonic glyphs that decorate the building prove to be a secret code, they discover there's more than books hidden away inside.

Embarking on a treasure hunt, Viola, Sylvester, Rosie, and Woodrow must run a gauntlet of mysteries and puzzles--and readers are invited to guess alongside them with every new clue they uncover.
Welcome back to Moon Hollow, where mystery lurks around every corner--and four kids have come together to solve crimes and puzzles big and small.

When a monster is sighted in the woods surrounding Moon Hollow, Viola, Sylvester, Rosie, and Woodrow know they're in for their creepiest case yet. But it's just one of fourteen mysteries competing for their attention. They'll have to uncover the truth in six clues or less--and readers are invited to guess alongside them each step of the way.
Does an abandoned asylum hold the key to a frightful haunting?

Everyone's heard the stories about Graylock Hall.

It was meant to be a place of healing - a hospital where children and teenagers with mental disorders would be cared for and perhaps even cured. But something went wrong. Several young patients died under mysterious circumstances. Eventually, the hospital was shut down, the building abandoned and left to rot deep in the woods.

As the new kid in town, Neil Cady wants to see Graylock for himself. Especially since rumor has it that the building is haunted. He's got fresh batteries in his flashlight, a camera to document the adventure, and a new best friend watching his back.

Neil might think he's prepared for what he'll find in the dark and decrepit asylum. But he's certainly not prepared for what follows him home. . . .

Scary, suspenseful, and surprising, Dan Poblocki's latest ghost story will keep you turning pages deep into the dead of night.
The Haunting of Gabriel Ashe
Has Gabriel created a monster?

Something sinister lurks in the woods outside of Slade.

Gabe has seen it, or he thinks he has - a shadow standing at the tree line, watching Gabe's house with faintly glowing eyes.

Despite Gabe's misgivings, his new friend, Seth, relishes the creepy atmosphere of the forest. It's the perfect setting for his imaginary struggle against the Hunter, a deformed child-eating creature said to leave the bones of his victims in his wake. It's just a game, but it's all a bit much for Gabe, who quickly loses interest as summer ends and the days grow shorter.

But then strange things start to happen. Frightening things. And Gabe knows it has to do with the dark figure watching him from the edge of the woods.

Is Seth out to teach Gabe a lesson? Or is the Hunter more than just a myth? Gabe isn't sure which option is more horrifying, but he's determined to learn the truth before someone gets hurt . . . or worse.
One kid's trash is another kid's terror in this spooky supernatural mystery.

When Cassidy Bean leaves New York to spend the summer upstate, she's disappointed to find that Whitechapel is not the quiet, pleasant suburb she remembers. Ursula Chambers, the strange old hermit at the end of the cul-de-sac, has passed away under mysterious circumstances. And the townspeople are shocked to discover that Ursula was a hoarder: Her farmhouse is teeming with stacks of newspapers, piles of furniture, mounds of antique dolls and taxidermy animals.

Cassidy watches as the people of Whitechapel descend upon Ursula's farmhouse, claiming her abandoned treasures for their own. She listens as rumors spread that Ursula's vengeful ghost is stalking the town with a warning from beyond the grave. And when Cassidy resolves to uncover the truth behind the strangeness, she learns there are more bad things in the world than she ever suspected. . . .

Modern master of the macabre Dan Poblocki is back with another scary story best read at night.
A remote island is haunted by wedding crashers from beyond the grave.

There is an island, far off the coast of Maine, where the ghosts of the past are restless.

Josie Sandoval and Eli Barker are strangers when they board the ferry to Stone's Throw, traveling to the isolated island for a wedding. Then an immense storm blows in, and the wedding party is left stranded with no way to contact the mainland... and no idea that they have been targeted for revenge by the undead. The only clues to the danger they're in are a scrap of an old Nazi uniform -- and an unfamiliar voice, crying out for help in German...

Josie and Eli soon realize there's much more to worry about than guest lists and flowers. It's up to them to uncover the chilling history of Stone's Throw Island and put its ghosts to rest -- or this dream wedding will become an absolute nightmare.